Traditionally, enterprises were expected to provide their employees with dedicated work spaces. With the rise of the modern workforce, the demand on facility managers to deliver innovative and efficient workplaces has exponentially increased. Workplaces are now leveraged to attract and retain top talent and boost productivity throughout the workforce.
Accomplishing these goals means providing environments that better support workforce mobility, improve employee experience and make it easier for workers to accomplish their tasks. As companies increasingly adopt modern workplace designs, facilities managers need to look beyond traditional tools to support these new environments and new ways of working.
1. Occupancy Sensors
If you're looking for technology to help reduce operations costs while improving the quality of the workplace environment, occupancy sensors are a great place to start.
Space utilization data provided by occupancy sensors can be used to control lighting, improve ventilation, plan and manage flexible work environments, and even to power intelligent wayfinding systems.
Traditional sensors use passive infrared to detect the presence of people via motion or heat. The most advanced sensors use imaging technology and deep learning to improve accuracy, increase range and perform advanced functions like daylight harvesting to reduce lighting costs.
![occupancy-report](/content/images/2017/06/Occupancy-Sensor-Reporting.PNG)
Image: Serraview Space Occupancy Report
2. Intelligent Wayfinding
As corporations shift to a modern workplace, office spaces are shifting from traditional assigned seating to shared "neighborhoods." In an agile environment, one or more teams are assigned to a neighborhood space versus an individual desk. Neighborhoods are designed to accommodate each department based on how often each department's staff frequents the office. For example, a finance team's neighborhood may have more allocated seats than sales considering finance is in the office more regularly.
This workplace design practice not only delivers significant cost savings for the company but also can help to build a collaborative culture within the organization. However, these environments can pose challenges for the workforce who must find available space to work since they no longer "own" a desk as well as locating colleagues since employees have a choice of seats.
If your goal for the modern workplace is to improve productivity, the last thing you want to do is make it difficult and time consuming for employees to find a workspace or their co-workers. Intelligent wayfinding systems (like Serraview) can solve both problems.
Wayfinding systems leverage IoT data to help keep a real-time view of available space and where employees are working throughout a given building. Typically, employees will either leverage a mobile app or installed building kiosk to reserve a workspace or meeting room in real-time. Network presence data tells the wayfinding system who is where making it quick and easy for workers to use the same app or kiosk to quickly locate a colleague.
Want to see how easy it is? Watch this video: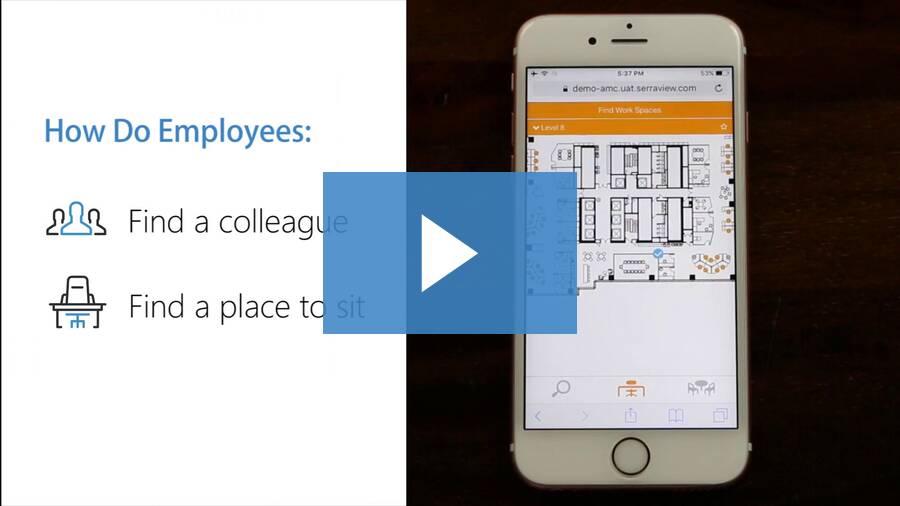 3. Automated workforce management
Traditional workplaces are becoming more flexible, which can create new challenges for optimizing facilities service delivery (such as cleaning and security) across all your property assets. As space becomes better optimized and utilized, the need for services can increase, while you may not have the budget to increase staff. That means you need to be smart about managing your resources.
An automated workforce management system like Lighthouse.io, based on a mobile platform and sensor technology, can provide full view of your facilities staff as well as real-time information about service delivery status. Having access to that data allows you to improve operational efficiency and control costs while also improving service delivery.
Automated facilities management can also help you maintain safety and reduce your risk for public liability claims. Sensor data captures evidence of safety issues, and task monitoring and reporting helps you stay in compliance with safety requirements.
Your service delivery workers are empowered when they have the information at their fingertips to help improve their performance. Service workers can use a mobile app to complete tasks, report issues and conduct audits, replacing time-consuming manual processes. They can take advantage of automated workflows and also receive alerts about scheduled tasks and urgent issues.
Best of all, improved service delivery and safety results in a better workplace experience for employees and enhanced customer satisfaction.
To see how it works, take a look at this video from Lighthouse.io:
4. Workplace comfort monitoring
While there are many factors that impact workforce productivity, office temperature is an important one. According to the results of a Career Builder survey, 33% of workers report problems concentrating when temperatures are too warm or too cold. Studies have even documented that work errors increase under poor comfort conditions.
The problem is, how do you know if workers are comfortable? Maintaining the optimal temperatures depends on the type of space, who is using it, and what activities they are performing. According to the BBC, warm environments are better for creative thinking and collaboration, while cool conditions keep people alert when performing repetitive work.
Now there is technology that can help, in the form of comfort monitoring apps such as Comfy that let employees easily report their comfort level wherever they are in the workplace. The aggregated data is then used to control the HVAC system to provide the precise conditions desired by the people using the space.
5. Secure mobile hotspots
It's no secret that today's workforce is increasingly mobile. People are working remotely and traveling regularly. As a result, attendance can fluctuate daily even within flexible office space. Providing sufficient connectivity in these environments can be challenging.
What will employees do when they are having trouble getting WiFi connectivity on high traffic days? They will most likely create a personal hotspot on their phones. That scenario is problematic for IT, since personal hotspots can be a significant security risk when employees are conducting business on their personal devices.
You can tighten security, improve connectivity, and boost productivity by deploying properly secured mobile hotspots that can be moved around the office wherever additional bandwidth is needed.
Here's a tip: Serraview's space planning software and tools allow you to monitor attendance and usage patterns. You can actually see areas of peak utilization using heatmap technology. Then proactively implement secure hotspots in high traffic areas when additional connectivity needs are expected.
---
While implementing these facilities management tools can significantly cut operations costs, there's another common denominator that's just as important: improving employee experience in the workplace. Achieving that goal brings the productivity and innovation results that are needed to drive top-line revenue gains.